AAALAC International presents the Bennett J. Cohen Award to Dr. Lynn C. Anderson
September 2019 -- At its 2019 Annual Conjoint Meeting of the Member Organization Delegates and Council on Accreditation in Bethesda, Maryland, AAALAC International presented its highest honor, the Bennett J. Cohen Award, to Dr. Lynn C. Anderson.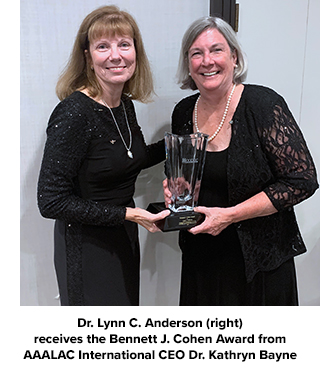 The Bennett J. Cohen Award
Named in honor of the late Bennett J. Cohen, the Cohen Award recognizes outstanding individuals who have, through their exceptional service and significant contributions to AAALAC International, demonstrated a strong and abiding commitment to advancing science through promotion of the highest standards of laboratory animal care in research, testing, and education. Dr. Cohen was a visionary in the field of laboratory animal science. He was instrumental in the founding of several well-known laboratory animal science organizations including AAALAC, AALAS, and ACLAM, and he was an ardent friend of the animal research and life science community. Dr. Cohen was a steadfast supporter of AAALAC International and the accreditation process and served as the first Chairman of AAALAC's Council on Accreditation. The 2019 award is the 14th occasion on which this prestigious award has been presented.
Dr. Lynn C. Anderson
Dr. Anderson began her career with AAALAC International as an ad hoc Consultant in 1986. She served for nine years in this role, and then served again as an ad hoc Specialist from 1995 to 2018. Dr. Anderson became a member of AAALAC's Board of Trustees in 2005 representing Americans for Medical Progress, continuing on as a Member Organization Delegate subsequent to AAALAC's change in governance structure. She became a Member-at-Large on the Executive Committee in 2016, and then Vice Chair of the Board of Directors in January 2017, and Chair in January 2018. She currently serves as Immediate Past Chair of the Board and has been pivotal in chairing several committees. She has served as President of three of AAALAC's Member Organizations: AALAS, ACLAM and ASLAP.
One of her nominators for this award noted that, "In each of the job positions Dr. Anderson has held during her professional career, she was a steadfast champion for the value of AAALAC International accreditation and used her position to broadcast that message."
"We are extremely grateful for the years of service Dr. Anderson has provided to AAALAC International," said Dr. Kathryn Bayne, AAALAC International's Chief Executive Officer. "Her dedication to AAALAC's mission has had, and will continue to have, a profound impact on the well-being of animals used in research and science worldwide, and the quality of the resulting science."
Please join us in congratulating Dr. Anderson on her service to the laboratory animal community and on receiving this well-deserved recognition!